Children and Youth Spiritual Exploration Program Specifics — Sunday Mornings
Starting Sunday, Sept. 15th, there will usually* be two services: one at 9 a.m. and one at 11a.m. We encourage families to pick a service time they generally will try to stick to, which allows both you and your child(ren) a chance to form some meaningful relationships with people. That said, we welcome you at either service that works best on any given Sunday.  The early service allows you early birds to launch your day with church and have the full rest of your day for whatever your family wants.  The later service allows a slower morning, time for pancake breakfast in PJs, and you can STILL take in church!
The content of worship will be the same with the exception of the choir.  The choir will sing at the early service two Sundays a month and the later service two Sundays a month.  Guest musicians will fill those worship elements for whichever worship the choir is not singing in.  While Coffee Hour follows each service, this fall the plan is that the Kids Snack Table will be open ONLY AT THE FIRST Coffee Hour.  Families attending the 2nd service should feel welcome to arrive early for their child(ren) to snack BEFORE the service.  (Many families were struggling with how to feed their child(ren) lunch when they had just filled up on snack at coffee hour.
Most Sundays, unless it is a multigenerational worship Sunday, children are present for the first 15-20 mins. of worship and then sung out to their specific programming. Parent(s) / caregiver(s) are always welcome to accompany their child to their LSE programming for part or all of the time.  Children always have the option of staying in the sanctuary with their family for the duration of worship if they prefer (and if it works for the parent(s) / caregiver(s). 
* Only ONE service at 10am on Sundays 10/27, 12/1, 12/29, and 6/7.
Children/Youth Spiritual Exploration Programming on Sunday morning
Infants & toddlers
We'll continue staffing the nursery 15 mins. before both services.  We're thrilled to welcome some new youth staff, along with many of the familiar faces of last church year's nursery staff, including Becky Webber and Cheyenne Sebold as the adult supervisors.  We will also be working on making a cozy, corner nook in the Fireplace Room. This will be a quiet (but not silent) place for parents to take in the livestream of worship with activities in the nook for their young children do not want to be in the nursery or the sanctuary. (The Fireplace Room will still be a shared space, with some adults or teens there to take in worship in a quiet — but not silent — space as well.)
"Explorers" for Preschool – 4th grade (early middle school welcome at 9am too)
The Explorers is a multiage, family feeling spiritual exploration time during each worship service. (This is sometimes called the "One Room LSE" — though sometimes this does involve splitting into more than just one room.  We try our best to offer choices of specific activities each day). Led by Liza and our talented team of caring volunteers, we'll use story, games, and art to explore our UU values and each month's theme more deeply.  New this year: We are aiming for about one hour of time together with the kids.  Since they are sung about 20 minutes into worship most Sundays, LSE pick-up will be in classrooms around 20 mins. after.  Adults can enjoy a little kid-free coffee hour time!
The Soul Matters curriculum is grounded in the monthly worship themes.  This allows families and congregants of all ages to be exploring the same spiritual questions and ideas each month.  We find this can lead to rich, engaging conversations at home during the week. Liza will provide families a brief summary of the main ideas from the morning and a couple follow-up questions to help facilitate these conversations. The Soul Matters curriculum is written by a veteran Director of Religious Education (DRE) in collaboration with DREs from around the country.  They provide a menu of themed-lessons with a goal of including kids who have many different learning styles. These lessons weave in stories, games, art, movement, and fascinating threads of UU history. Each month includes options of exploring different traditions and religions as holidays arise during the year.  For more information on the Soul Matters curriculum, or to see a sample session plan, click here.
"Crossing Paths" for 5th-8th graders (During 11am worship only)
We are excited to bring back a beloved UU tradition of having middle school youth explore other faiths including visits to other faith centers in our community. The Crossing Paths curriculum is known to be engaging and thought provoking and often inspires the entire family to join in the learning.  We'll offer an orientation in early fall to meet facilitators and learn more.  Read more here.
High School Youth Group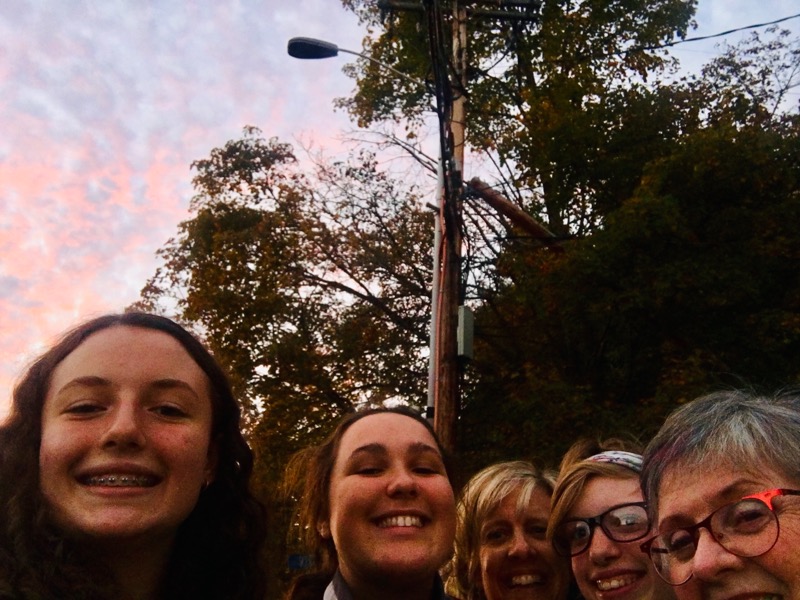 9th-12th graders are strongly encouraged to participate in what we hope will be a year of youth deepening connections with one another and with themselves while engaged in fun activities that help them explore their beliefs and UU values. We are excited to welcome Elizabeth Peebles (former Coming of Age guide and lifelong UU), Pat Meehan (4th-5th grade Our Whole Lives instructor and home builder extraordinaire) and Gretchen Stahl (longtime UCM member and former high school English teacher) as our new youth group advisors!  Currently scheduled to begin Sunday, Sept. 16th, they will begin the year meeting during the 11am worship.  For the calendar of sessions, please email Liza.  Youth Group will alternate with 10th-12th grade OWL so the programs will not conflict with one another.
Our Whole Lives for 10th – 12 graders
This program helps senior-high youth gain the knowledge, life principles and skills they need to express their sexuality in life-enhancing ways. Great for both youth who took the 7th-9th grade level, and also for those who have not.  Facilitated by Peter Watt, Mara Iverson, and Becky Webber.  14 sessions.  Currently scheduled to begin Sunday, Oct. 6th, 10:30a.m. – 12:30pm. this will alternate with High School Youth Group Sundays and also with an overnight.  We usually do not plan programming for holiday weekends or school vacations.
We want children or youth of any age to feel encouraged and welcome to participate in Sunday morning worship as their spiritual exploration. Just because we do offer separate children/youth programming most Sundays, they are not obligated to participate.  Sometimes with our separated, busy weeks, being together as a family unit in worship is what each person in the family is craving.
If you have any program questions, please see me during Coffee Hour or contact me with the link below.
Dir. of Lifespan Spiritual Exploration